Wilderness Scotland have just released some great new itineraries for 2012 with multi-activity, walking and sea kayaking covered, from the Highlands to the Islands!
The Ultimate Scottish Highlands trip is a great family multi-activity trip, lasting a week, based in the Cairngorm National Park. With a range of activities on offer, with experienced guides, you will have the chance to experience the Cairngorms in a variety of exciting ways. You'll also be able to have some free time to explore yourself. This looks like it will definitely be one of the best multi activity trips in the Caringorms.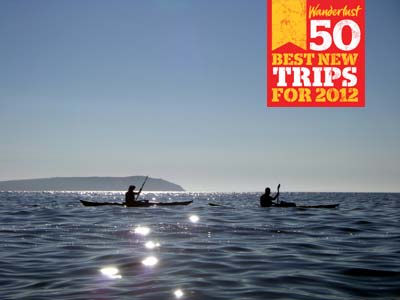 Scottish Sea Kayak Trail: South.The Scottish Sea Kayak Trail is Europe's only long-distance sea kayak route, stringing its way down the west coast of Scotland. Wilderness Scotland's Scottish Sea Kayak Trail: South trip is a great way to experience the southern end of the trail, from the Isle of Gigha to Oban. This 6 day sea kayak trip is accommodation based, with a range of beautiful accommodations next to the sea. You can also join it onto Wilderness Scotland's other Scottish Sea Kayak Trail trip, to enable you to do the whole trail over 2 weeks – all 200km of it!
The Applecross to Ardnamurchan trip is sure to be a favourite. The 5 day wilderness walking trip takes you to some of the most beautiful walking in Scotland – from highland glens to sea views of the Small Isle of Eigg. Otters and castles are also on the viewing menu for the week! This walking holiday in Scotland also features my personal favourite place in Scotland – Torridon!
If you want to find out more about these trips, you can contact Wilderness Scotland directly through their company profile. Its also worth checking out all of their adventures, as there are plenty of other fantastic adventure holidays in there!