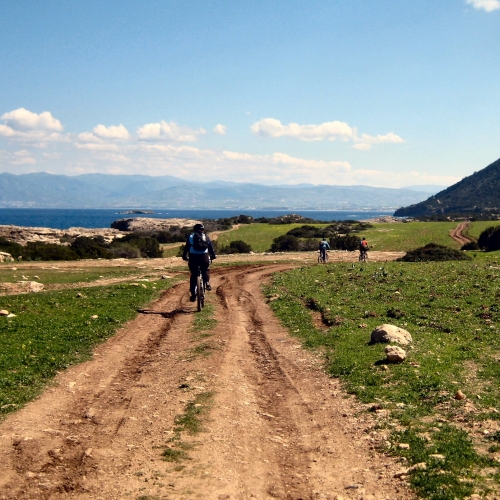 Our membersWheelie Cyprushave addedself-guided holidays to their programme of guided trips and day tours to offer a more leisurely cycling holiday option with a mix of off-road and road riding to suit all abilities. So no need to worry about keeping up with a group!
They are introducing an innovative approach to self-guided cycling holidays in Cyprus by using GPS for easy route finding, together with easy to follow route guides detailing special points of interest.
The unspoilt north west of Cyprus in the Polis region offers a myriad of quiet back-roads and off-road trails where visitors can discover hidden gorges, deserted villages, traditional coffee shops and tiny artisan museums.
But how to find them without a guide?
This new self-guided cycling trip makes it easy. Simply follow the routes using the GPS unit supplied with your hire bike and take in the scenery, rather than burying your head in a map. Any problems, just call the emergency number provided.
Perfect for couples or small groups, the carefully planned routes give daily distance and height gains so everyone can pace themselves, and there is an optional uplift service for anyone who gets tired.
Available from February 2013, the choice of dates is completely flexible, although July and August are best avoided due to the extreme summer heat.
Prices range from GBP 610 to 650 per person and include 7 nights bed and breakfast accommodation in 3 different hotel locations including 2 nights at a luxury spa resort, airport and luggage transfers between hotels, route guides and GPS unit plus emergency support service if required.
Flights, bike hire, optional uplifts, lunches and evening meals are not included.
Contact Helen for more information by clicking 'Enquire Direct' here.