Preparing to go skiing for the first time? Just booked a snowy winter break but have no idea what to pack? If you're baffled as to where to start with your ski wardrobe, you aren't alone.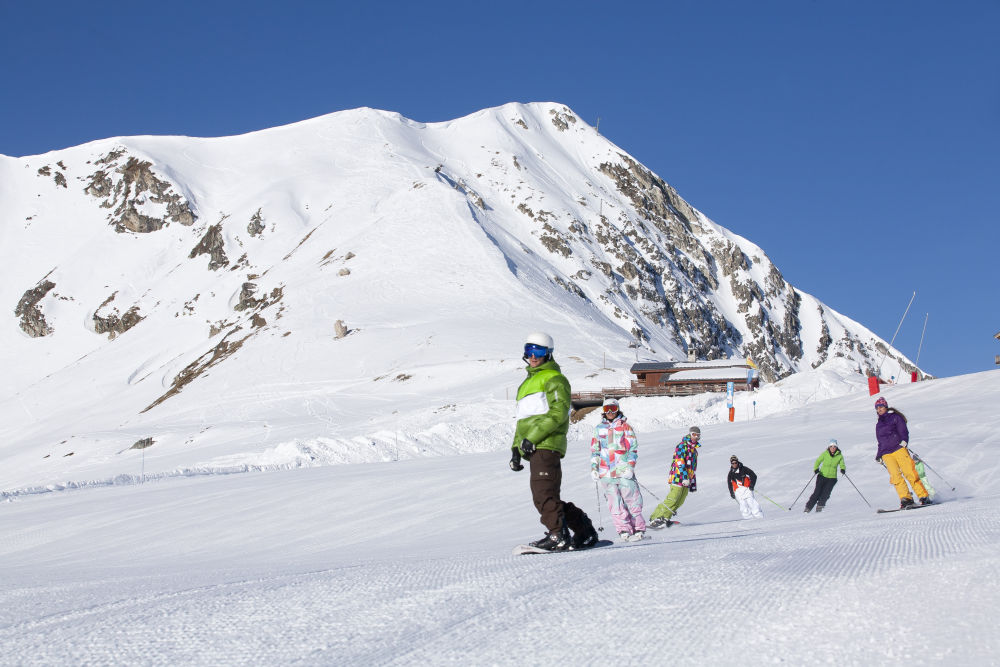 Luckily, it's pretty simple once you have the basics sorted. But we'll say it: the newer to skiing or snowboarding you are, the more prepared you should be. Starting out, you'll probably fall a little bit, repeat your newly acquired techniques a lot – it's all part of the fun! All this extra activity will keep you warm at first, but sweaty clothes get really cold on the chairlift…
Here are the things you should prepare before you head off on your first ski or snowboard holiday.
Takeaway advice
Thin layers are better than thick. Insulation is much better – keeps warm in, adjusts to temperature, less bulky. Cotton isn't a great idea – it holds water and sweat (gross) and doesn't keep the heat in well. Thin merino wool or polyester does this much better.
Base layer – Always choose thermal. The sun does not necessarily counteract the fact you're on the snow, and you will be cold if you scrimp on your base! Go waffle for the warmest and – weirdly – the most stylish. A polo neck option will also keep your neck warm, eliminating the need for a scarf which will only flap around and get caught on things (think: trees, passing skiers, your own face).
Middle layer – Choose fleece or other insulating sweater for additional warmth and protection. Don't think that skipping this option is okay! A ski jacket too close to the skin is not comfortable or warm.
Insulating pants – Thermal leggings or long johns are an option. Moisture wicking is a better option. But really, anything to protect you a bit more than just your trousers is great. A warm bum = a happy, chicer skier.
Winter jacket – Your outerwear is where you can really choose to express yourself: there are plenty of sweet options around. Also choose practical where you can, meaning vents for body heat are a good idea, as is some decent padding for cold days.
Outer pants – Ah, the most important piece of gear! Choose ones you love, but make sure they're waterproof and toasty warm too.
Ski socks – When it comes to socks, bigger is not better; boots are insulated already. Instead, go for a thinner and longer option in an insulating fabric like acrylic. Longer means that they have further to fall before they're bagging around in your boots. Thinner means both warmer and less sweaty: the perfect combination for a foot.
Winter gloves – Because frostbite is the definition of pain, and since you probably find your hands and fingers to be quite useful on a daily basis, you'll want to keep them. Go for the best glove insulation you can – if you don't want to invest in leather versions like the pros, Gore-Tex is also infinitely preferable to hands of ice.
Goggles / Sunglasses – We recommend goggles over glasses, which protect against the wind and snow as well as the sun. There are some really cool options available at the moment, which is fortunate as they will most likely be covering half your whole face. Going with a mirrored, coloured lens keeps up with civilian (non-skiing) sunglass trends and look more fun than a plain old mirror or tint. Even if you don't think they look that great (are you mad?), we bet you'd prefer them to snow blindness.
Sunscreen –Peeling cheeks aren't chic. We recommend you pack your sunscreen at home, instead of leaving it to buy there; sunscreen can be pricey in the mountains. Go for a high factor.
Where to buy – Sail and Ski offer a great selection of skiwear for new skiers and those more experienced.
Where to go – Try Les Arcs, Courchevel or Morzine – with plenty of nursery and intermediate slopes at these resorts, they're great options for beginners. Alternatively, if you want to sneak some practice in before you commit to a mountain, try an indoor ski slope such as Chill Factore in Manchester.
Booking your holiday – Clearly there is no better place to start than our wonderful time saving service. Why search? Just let chalets make you offers. Enquire now!