Each month we take a look through the profile photos of all the people who like our Facebook page, looking for that muchbetter profile pic. There is always a story behind it too, so we get in touch to find out more. The September Profile Picture of the Month comes courtesy of Alcaide De Mourao.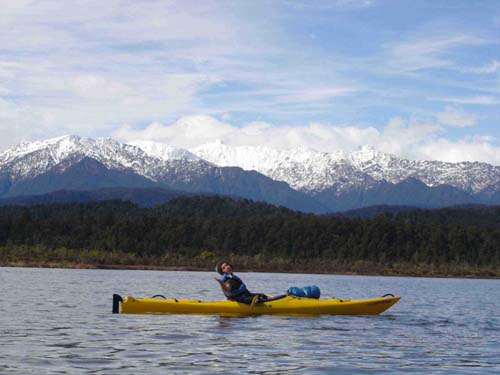 JG Hi Alcaide your picture looks amazing, where was it taken and what were you doing?
ADM – Hi James, the name is actually Miguel Mota – Alcaide is just a FB nickname.
This pic was taken in 2007 during my 2 month trip to beautiful New Zealand. I rented a kayak for the day to explore the Okarito Lagoon on the western sea coast of New Zealand's South Island.
The lagoon is surrounded by lush native rainforest, above which rise the towering snow-capped peaks of the Southern Alps. It is also the largest unmodified coastal wetland in NZ.
Plenty of amazing avifauna and mysterious river channels to explore and, best of all, no one around!
I have a background as a wild animal keeper so I am always looking for great opportunities to see wildlife up close on my travels.
I am also about to move permanently to the Yucatan Peninsula in Mexico where I intend to start a tour company and lead small groups to visit the jungle, Mayan ruins, etc.
JG Well youve got plenty going on, where should I start? You mentioned that you were a wild animal keeper, where did you do it and what animals were you responsible for?
MM – I worked as an animal keeper both voluntarily and professionally in Ireland, Spain and Ecuador, mainly in animal rescue centres. These centres offer a safe haven for animals that have been abused, confiscated by authorities, retired from lab research or unwanted pets.
Working as an animal keeper can be quite demanding but also very rewarding; you are responsible for the care and rehabilitation of a variety of different animal species and it also requires a bit of hard work (mucking out, feeding, cleaning enclosures etc) I cared for a variety of different animals from monkeys and pygmy hippos to donkeys and mules.
JG – From your photo and destination you sound like a real wetlands fan.
MM – I am indeed fascinated by wetlands not only because they are one of the most productive ecosystems in the world with an astounding variety of flora and fauna but also because they are nature's water filters, cleaning our water of toxins and impurities thus crucial to our own species survival.
JG – How has the recent oil disaster in the Gulf of Mexico affected the Yucatan Peninsula?
MM – The Gulf of Mexico Oil Spill was, in my opinion, a large scale "ecocide"and I sincerely hope that the recent proposal made by a British activist for the United Nations to accept "ecocide" as a "crime against peace" becomes a reality and that the culprits can be tried at the International Criminal Court. Thankfully, Mexico`s Yucatan Peninsula was spared from a direct hit by the spill. Nonetheless, the Gulf of Mexico is a very important migratory route for hundreds of different species and I believe the long term negative effects in that area are yet to be seen.
JG – When do you plan to start the new life in Mexico?
MM – I am moving to the Yucatan Peninsula in just a few weeks and am very excited about the new challenges ahead. I will actually be based very near one of the most important wetland habitats in Mexico, the Sian KaanBiosphere Reserve. Cant wait to get back into a kayak and paddle on those crystal clear waters!
JG – Well hopefully well see your tour company featured on the site very soon. Best of luck and it was a real privilege to speak with someone so motivated and interesting.
MM – Thank you so much for your interest. Its an honour to be part of the profile pic of the month.
If youthink you have the ultimate picture for next month, orhave a nomination, let it be known on ourFacebookpage, orcontact usby email.