This month we don our flippers and head to the Caribbean for some scuba diving with Reef Conservation International.
The trip notes:
Richard went diving in Belize last summer, and gave us this travel review of the fantastic experiences ReefCI have in store for you. Like any true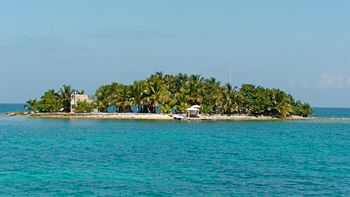 'much better adventure', his trip combines some awesome diving with local experts, whilst making a genuine contribution to marine conservation efforts in Belize.
Richard:Id forgotten just how fantastic diving can be.A Caribbean idyll. Palm trees, white sandy beaches, a jetty poking out into turquoise blue waters. And thats just on the surface. The best bit is submerged. Going diving we soon saw there was a reason why people use words like teeming with life and incredible abundance of colours.
Fish 4ft long and rather interested in you. A hawksbill turtle, about 4ft and happy for us to sit and take photos till it got bored – and then moved away with remarkable grace and speed. At one stage we were surrounded by thousands of tiny glass fish swarming round us while a couple of massive groupers just dawdled past. All this, of course, set against the backdrop of some of the most beautiful and weird plant life which live on the coral. And lobster. And fish that can
change colour or change sex at will. Ones that are monogomous, ones that work on the hareem principle – but if the male dies the next oldest female turns herself into the lead male and all of it an incredibly finely balanced ecosystem.Something for you fact lovers out there: the oceans making up 70% of the earths surface (so why do we call it Earth?). Reefs make up only 0.1% of the ocean, BUT they support 25% of marine life. So you can imagine why theyre so special, and so protected. The Belizean barrier reef is 174 miles long and is second only to the Australian great barrier reef in size. Tom Owens Caye (pron Key) is the island where Reef Conservation International is based, in the Sapodilla collection of cayes right at the very south of the reef, equidistant from Honduras, Guatemala and Belize.I spent a week working with Polly, Jo and the rest of the people whod also paid to come here on holiday and work as part of the conservation project to monitor and protect this reef. You fly to get here and pay them a rather modest fee – then you get everything included , including excellent dive training, all the kit, air, boat fees, accomodation and food and of course some incredible dives. No-one knows the waters round here like Polly, boat captain Roland and the rest of the crew.
In short, the work is simple and enjoyable – when else do you get a chance to gather together the conch from the Stadium diving site (a huge sandy bowl surrounded by a bank of coral, hence the name), check their tags and measure their size, lip thickness, sexual maturity ahem and then swim off for a bit of pure fun diving to finish the session.After 3 weeks in mountains, jungle, and cities seeing cultures modern and ancient, issues social and sacred, coming to English speaking country (well, creole I can get 1 word in 5) with the Queens head on the dollars, and coming out to an island paradise to spend my time in another world And, most importantly, to feel like im doing something worthwhile – something that, however, small, makes a contribution, makes a bit of a difference well, its very rewarding. If the aim of a holiday is to get you away from the humdrum elements of your life, to give you perspective, space, an alternative to the norm something to give you wonder and awe and fun, to delight you and tire you and it can do this while giving you a justified sense of self worth? Well, now thats a holiday.Oh, and theres no mobile phone coverage, no internet, and only one phone. Bliss.
Sounds good to us!
The 'much better' bit
On the conservation side of things, Reef Conservation International are working with the Belizean Government and Ministry of Fisheries to enforce preservation zones in the Sapodilla Cayes Marine Park (SCMR). Fish spawning, conch and lobster breeding and migration zones are the primary focus, with different types of preservation zones required for different circumstances. For example, grouper and snapper spawn at certain lunar cycles during the year, therefore
the protection from fishing needs only to be enforced during these time periods. Working on projects that concern commercial fish species like this, and in close cooperation with local organizations, ensures research outcomes which are beneficial to the local communities. ReefCI also conduct studies on water quality assessment, plankton study, habitat study, social-economic impact on the reef, pollution assessment, nursery habitats, turtle monitoring, and sea grass studies. As the only organization consistently diving in this area of Belize waters, they regularly make new discoveries, even new fish spawning grounds.There is also a global perspective to the reef protection mission you will contribute to as part of you scuba holiday in Belize. The data collected by everyone at Reef CI including you, is an important contribution to scientific efforts to advance our understanding on coral reefs, and human impacts upon it. Reef Conservation International are members of Reef Check, a US based not for profit who have created a simple data collection method which can be used by recreational divers, in order to facilitate the growth of global network of regular monitors and reports of reef health. Now present in more than 82 countries, they are able to collate valuable i insights into the impact of global warming, industrialization and overpopulation on reef health.
ReefCI are also a recognized Project Aware Eco-Operator and participate in both Project Awares Coral Watch and Whale Shark programmes. If you fancy visiting, make sure you time it with Turtle season which is soon starting (July to October) or otherwise, whale shark season is March to June. Find out more about Reef CI diving holidays in Belize, and get in touch with Jo directly using the enquire form or contact details provided.
To go the full monty, you could combine a diving trip to Belize with a stay at nearby Cotton Tree jungle lodge. Check out their guide to the other activities on offer in Toledo District of Belize
You might also be interested in Turtle Conservation Projects in Mala
ysia with WOX.