We go on an adventure in to West Africa with our regional expert Thomas from West Africa Discovery, and discover that for those willing to get off the beaten track, there is a whole world of action waiting for us.
We all know of Australia as an adventure destination for surfing and diving, or Chile for its white water rafting and trekking possibilities, but what do we know about West Africa as an adventure destination? Not much I suspect. That is why I decided to explore, country by country over a four part series, the opportunities for a good old escapade in a few of the 16 countries of this little known part of the World.For those of you who are in to exploration, you may well
have heard of Scottish bornMungo Parkwho made it his life mission to go where no man had gone before on the African continent. He concentrated his efforts on the West African countries of Senegal, The Gambia and Mali, and was said to be the first Westerner to encounter the Niger River and set up residence in the fabled city of Timbuktu. Well, following in his footsteps, I am going to concentrate on a more modern timeline and will attempt to give you a breakdown of adventure travel opportunities and cover the possibilities for the development of activities which reflect the adventure ethos and aim to cause less damage to the environment they operate in.
Part 1: Senegal.
Lets start in Senegal which is a diverse country in many ways. It has a variety of ethnicities and a climate that changes dramatically from North to South. This country has been nicknamed Le pays de la Teranga (Teranga, in Wolof, can be approximately translated as The art of hospitality) due to the overwhelming thoughtfulness of its inhabitants and their willingness to share, even though most have nothing. The coast in the West, stretching 531km (330mi), is our starting point for our adventure discovery.An Atlantic coastline means waves, and waves mean body-boarding or surfing! In the capital, Dakar, and near the Isle of N'gor there are several surf camps that make it possible to ride on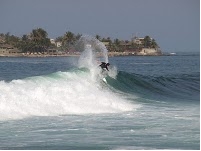 the longest swell window in the World. Not only do these camps provide you with expert knowledge of the areas surf spots, but they also aim to give employment to local people by training them in hospitality and surf instruction. They also boost the local economy by bringing tourists to the destination and encouraging them to live local. If you fancy taking a break from the Ocean breeze and prefer discovering the hinterland of Senegal, bike tours are possible on which it is possible to stay in homestays and immerse yourself in the local life whilst appreciating the awe-inspiring, baobab dotted, landscapes. Visits to the Lac Rose (the pink lake) or the Lac de Guir near the Sngalo-Mauritanian border are a great way to discover the rural culture on Northern Senegal and appreciate the beauties of the semi-arid Sahel region.
Moving down south to the Sin-Saloum, dotted with mangroves and small tropical-like islands, there are possibilities to gopowerchutingto discover the splendours of scenery where land intertwines with the Ocean, or take a pirogue (traditional fishing boat) with a guide to go fishing in the maze of waterways which a variety of birds, butterflies and monkeys call their home. Obviously, you will need a place to rest, and there is no lack of accommodation in idyllic spots to recover from the days thrills and spills. Many an eco-lodge are available for your needs to be pampered, and other budget accommodation is also available (enquire with us to learn more). So why not kick back and relax in a traditional hammock with a glass (or bucket) of palm wine and listen to the sounds of nature. You might even catch sight of a mischievous monkey or two.Moving to the complete opposite on the map, we find ourselves in the South-East of the country, also nicknamed Bassari Country after the mysterious tribe of the same name linked to the Dogon people in Mali. Here, lies the Senegalo-Guinean border dominated by the Fouta Djallon, a granite and sandstone formation with the highest elevation of 1,515m dominated by tropical-like forests and home to the headwaters of three major rivers, the Niger River, the Gambia River and the Senegal River. This is an ideal place to get your hiking boots out and take on a medium-hard trek up to the highest point, Mount Loura. Along the way you will encounter a number of species of monkeys including green colobus and patas, and even chimps are known to dwell in the depths of the jungle. At the foot of the Fouta Djallon, on the Senegal side, lies the sleepy eco-village of Dindflo which you could call your base, and is the location of one of the only two waterfalls in Senegal.
If you fancy a bit of exploration, you can retrace your steps to the Gambian border and cross over to some of the least visited parts of that region where you can find some hidden eco-lodges which have purposely been built for those in need of a getaway from mass tourism.To the South is Casamance, one of the most beautiful parts of Senegal but least touristy due to the lack of marketing and the occasional news about rebel activity. However, I have been there and take it from me, there is nothing to worry about, in fact it is probably the best place I have visited in my life.When in Casamance there are plenty of adventure activities to partake in, although less organised. From mangrove exploration in canoes, scuba diving or snorkelling on the coast, beach hiking or mountain biking, there are plenty of options for those open enough to approach the locals for a bit of advice.There are many other activities that can be found in Senegal to quench your thirst for adventure; however I would probably need another thousand words to describe the entirety of the possibilities, but needless to say that if the adventure travel industry was developed to a higher level, whilst taking into consideration the local communities and local heritage of course, then Senegals relief and different climates could open a number of doors for those seeking new locations and new alternative ways of getting that all important adrenaline rush.Imagine kite surfing near the Souths deserted beaches or paragliding from the Fouta Djallon plateau, canoeing down the whole length of the Gambia River or hot air ballooning over the sand dunes in the North. Only imagination is the limit!
We are working hard to bring the best adventure choices in Senegal onto the siteu so you can contact them direct and plan your trip. Until then, why not visit theWest Africa Discoverywebsite for more information on unique and exciting holiday ideas that will tickle your explorer glands or provide you with your next hit of adrenaline.