A Guide to Activities in the Toledo District of Belize, by Cotton Tree LodgeSome call it The end of the Earth, we call it home. Toledo is the least populated, least developed, and least visited region of tropical Belizewhich is exactly why independent, off-the-beaten-track travelers love it so much. From remote, traditional Mayan villages to miles and miles of untouched rainforest, there is plenty for the adventurous soul to see and do here. Toledo residents welcome visitors, and are proud to show off their home. English is the official language of Belize (formerly British Honduras) so youll have no trouble communicating with your hosts. Mayans and HikesFor those interested in Mayan culture, Toledo is the perfect place to learn about both the ancient and modern Maya. A number of Kekchi Maya villages, characterized by thatch homes and the traditional alcalde leadership system, dot the countryside. Many hotels and organizations offer excursions to Mayan villages or cacao farms, where you might learn to make tortillas or chocolate and can share lunch with a local family. To study the ancient Maya, you can visit three different archaeological sites. Nim Li Punit, perched on a hilltop above Indian Creek Village, features impressive stelae and offers a gorgeous view over the surrounding countryside. A mysterious crystal skull (yes, like Indiana Jones) was supposedly found at Lubaantun ruins in the early 1900s. And Pusil Ha ruins, deep in the jungle and not far from the Guatemalan border, can only be reached by a serious hike. At certain times of year, community festivals bring ancient Mayan traditions to life, with dances, games, music, and food. Caving
If caving is your thing, you have a number of options in Toledo, where Karst topography has created a network of stunning underground limestone caverns.
One of the most popular is Hokeb Ha Cave in the village of Blue Creek. Hokeb Ha is Kekchi Mayan for where the water enters the earth. The Moho River begins in the depths of this cave, and flows out of its mouth to perfect sapphire pools and waterfalls. You can jump in and swim against the current towards the rivers source. Tiger Cave, recently rediscovered near San Miguel village, offers immense caverns of stalactites and stalagmites. You may find bits of ancient pottery inside along with dramatic rock formations. While one identified route takes you a mile into the cave, there are many side-trips which have yet to be explored. You should always visit caves with appropriate equipment and an experienced guide. Kayaking and FishingSeveral beautiful rivers flow from the hills in the west out to the Caribbean Sea, creating plenty of opportunities for recreation. Both fishing and kayaking are popular, though the waterfalls seem to make the
most lasting impression on visitors. Rio Blanco Falls, between the remote villages of Santa Elena and Santa Cruz, features 15 foot cliffs from which thrill seekers can dive. Smaller San Antonio Falls, just a few miles away, is popular with both locals and visitors as a great picnic and swimming spot. WildlifeWildlife viewing is incredible here. Toledo is a haven for birders, and a number of local expert guides are available for full or half day excursions. Just outside the Toledo District, endangered Scarlet Macaws nest at Red Bank Village each year from January – March, and visitors can easily hike to see them. In addition to birdlife, keep your eyes open for a variety of iguanas, fish, turtles, and other creatures. And of course, the very vocal howler monkeys always make their presence known! Diving and snorkelingJust offshore, the Caribbean ocean and the Belize Barrier Reef run along the coast of Toledo. The reef is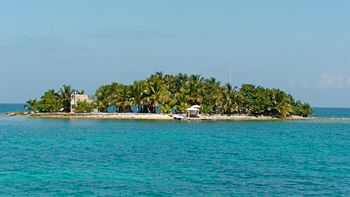 over 450 miles long and home to more than 60 species of coral, 350 mollusks and 500 fish species. Lucky divers and snorkelers may see rays, whalesharks, and hawksbill turtles amongst other creatures. We recommend Reef Conservation International for diving in the area. Those who prefer to remain above water can charter sailboats from marinas in nearby Placencia, or hire fishing guides from Punta Gorda to help them explore the many cayes, or small islands, that dot the reef system. Make sure to stop at the rangers station in the Port of Honduras Marine Reserve to learn about local marine life and take in the view from their observation tower. Read a review of diving in Belize hereHow to do ToledoThis beautiful and undeveloped area is unfortunately difficult to explore without your own transportation or the help of a guide. A few beautiful, small hotels and jungle lodges offer inclusive packages which can take you to the sites mentioned above. If youre looking to travel independently, you might consider staying in Punta Gorda, the largest town in Toledo. From PG as the locals call it, you can easily connect to points north in Belize by public bus or plane, or make ferry connections to Puerto Barrios and Livingston Guatemala. Several tour operators based out of PG can provide guide service. You can also rent a car and drive yourself from point to pointbut be careful. Not all of the roads are paved or marked in Toledo, and its best not to drive after dark.
More about Cotton Tree Lodge:
Nestled between unspoiled rainforest and the banks of the Moho River, Cotton Tree Lodge offers a tranquil retreat on 100 private acres. The owners opened this Belize jungle lodge in early 2007, hoping to develop "a magical place – where visitors could get in touch with the land, the people, and themselves". Since then it has been featured in publications such as the New York Times and on the cover of National Geographic Traveler. Guests can choose from a wide range of activities, including caving, waterfalls, horseback riding, kayaking, snorkeling, fishing, hiking, birding, Mayan ruins, village tours, chocolate making, and more.