With many people still undecided about how to spend their summer break, the muchbetter team got together and argued over the top 5 on their summer adventure holiday wishlist. It wasnt easy – all winter weve been slaving away unearthing friendly places to stay, guides and instructors who share your passion for adventure, live locally, know the best spots and care about the environment. It could have been a top 100, but finally we got it down to 5.
The criteria:
Active learn a new sport, or get outdoors to explore a new area.
Good value Basic packages range from between 100 and 600 for between 5 and 8 day packages. Inclusions vary.
In Europe they can be reached overland from UK. Some are further than others so take your time and use it to stop in a few other places on the way – the journey is always part of the adventure after all. We have included sample train routes, travel times (excluding stops) and stop over points. Driving or flying would be more direct options in some cases.
Learn to Surf in Spain
Try Andy and Rosalias family run surf school and surf camp in the beachside town on Conil de la Frontera in Andalusia, Southern Spain. El Palmar is a good, fairly punchy beach break and doesnt get as crowded as some. They run a 7 day surf camp which includes self catered accommodation, equipment and instruction every day for 361. Ideal for beginner and intermediate surfers.
Get There. Trains from London to Paris, overnight Paris to Madrid, Madrid to Bahia Sur San Fernando or Cadiz. Actual travel time: approx 20 hours. Bookable separately on Raileurope.co.uk.
More info and contact details:Surf School Spain
Hiking in Montenegro
Stunning coast lined with dramatic mountains, beautiful beaches, rich history, strong culture, friendly people and almost no tourists! Montengro wont stay undiscovered forever.
An organisation called Zalaz run an 8 day hiking traverse of the coastal mountains for 585 per person leaving on 17th May or Sept 27th. You will be staying in mountaineering huts, old stone mountain houses, camping, and in family guesthouses where you will get to know the locals. They do the guiding, and provide most meals, transport, permits and all the logisitics. They can help also arrange hiking trips any other time of year.
Get there: Take a few days getting trains down through Italy. London-Paris Nord, Paris Nord Milan (overnight), Milan to Bari. Get the ferry from Bari to Bar. Actual travel time: approx 22 hours. Bookable separately on Raileurope.co.uk.
More info and contact details:ZalaZ
Climbing and hiking in the Tarentaise French Alps
There is a great hostel in Bourg St Maurice called Loft. They offer comfy, friendly accommodation for climbers, boulderers and hikers. Shared rooms (3 rooms of 4 and one room of 6), with cooking facilities, free wifi, bbq deck and secure gear storage. You can stay a week for 100, or 20/night.
The Tarentaise valley has several local bouldering spots and climbing routes, only 30 mins from the hostel. It is also on the GR5 trekking trail, with lots of refuges and hikes in and around the Vanoise National Park. Charley, the owner, can help you arrange guides.
Get there: Trains from London to Paris Nord, Paris Lyon to Bourg St Maurice, sometimes via Chambery. Actual travel time: Approx 7 hours. Bookable on Raileurope.co.uk.
More info and contact details:Loft Hostel
Sea Kayaking in Croatia
Time to get some sun, sea and errr sea kayaks. Croatia is on everyones list – the home of truly turquoise waters, craggy coastlines, beautiful villages, great weather and better pizzas than Italy. It is easier on your wallet too.
Sea kayaking the Croatia coast from Porec to Rovinj on a 5 day kayaking trip with Fiore Adventure will set you back 335 -360 per person. You will stay in local guest houses and family hotels. They provide guides, equipment, transport, and breakfast is included. Lunches and dinners are better spent in the great local restaurants.
Get there: London to Paris Nord, Paris Bercy to Venice (overnight), Venice to Porec by ferry. Actual travel time: approx 19 hours. Bookable separately on Raileurope.co.uk. Ferry available on venezialines.com
More info and contact details:Fiore Adventure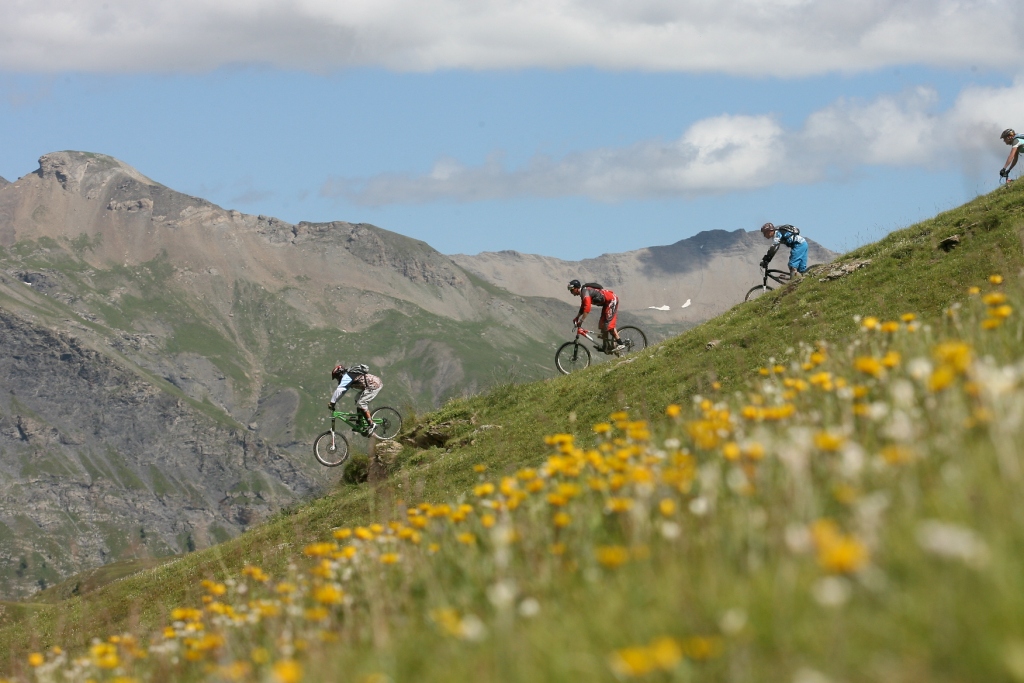 Mountain Biking from the Alps to Provence
Discover parts of the Alps you probably havent seen on a self guided mountain biking traverse that starts in Ecrins National Park and winds up in the lavender fields of Provence.
For 445,Undiscovered Alps will plan your route with you, provide maps and GPS, sort out 7 nights local B and B accommodation and luggage transfers along the way. With choice of technical single track, spectacular mountain ridges with panoramic views, easy forest trails, riverside tracks and canal paths, the mountain biking route can be adapted for any level of rider.
Get there: Train From London to Paris Nord, Paris Austerlitz to Gap. Actual travel time: Approx 11 hours. Sisteron is the nearest station to the end of the route. Bookable separately on Raileurope.co.uk.
More info and contact details: Undiscovered Alps
There are plenty more muchbetter adventure holidays in Europeand accommodation in Europewhere these came from.
Know somewhere? Share it.